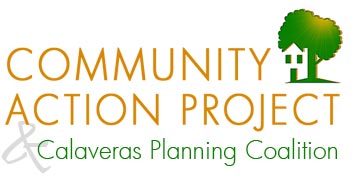 Testimony, Comments & Opinions
October 2017
Eleventh Hour consideration of Medical Cannabis Cultivation and Commerce Ordinance Project. A review and opinion letter of a report submitted to Board of Supervisors by County Supervisor Dennis Mills. By CAP's Muriel Zeller –
The Draft 2017 RTP provisions represent good steps to improve safety, aid the economy, and protect the environment. We strongly encourage Calaveras County to achieve consistency with the 2017 Draft RTP by including similar policies and implementation measures in its Circulation Element. The County must be an active partner in these endeavors if people are to reap the benefits of these particular 2017 Draft RTP policies. In addition, if the County adopted such implementation measures with sufficient commitment to achieve measurable standards, then the County could mitigate impacts of development under the Draft General Plan.

Below is  the CPC comments on the Draft 2017 RTP:
          2017 RTP Letter from CPC_final
June 2017
Planning Coalition Releases  Comments on the Medical Cannabis Cultivation and Commerce Ordinance DEIR: 0 CPC – Cannabis DEIR Comments Combined in pdf
February 2017
Scoping Comments in response to the Notice of Preparation for the Calaveras County General Plan Update Environmental Impact Report:
4 Table of Contents & List of Contributors
9 Land Use and Plannind Scoping Comment
12 Traffic and Circulation scoping comments
Docume14 Guide to Attachments to assist the County in evaluating and mitigating the impacts of the General Plan Update:
AGRICULTURE:
2014_0225_marin-county-agricultural-land-conservation-program_final
Calaveras Draft Ag element October 2008
F.C. Ag preservation principles
farmlenad protection toolbox_02-2008
Monterey Agriculture Element Placer CGPPart5 Sacramento Agricultural-Element
Napa Ag Land Use Element 06-04-08
Sacramento Agricultural-Element
AIR QUALITY:
Air_Quality_-_Land_Use_handbook
BIOLOGICAL RESOURCES:
Cal_Wildlife_Action_Plan_final
GP_Bio_resources_goals_and_policies_FC
CHILD CARE FACILITIES:
including_child_care_in_local_planning
CONSERVATION AND OPEN SPACE:
Mono_ConservationOpenSpaceElement
DATA ANALYSIS:
ECONOMIC DEVELOPMENT:
InvestingforProsperity Workforce_Development_Piece_FINAL_10-08-03
Workforce_Development_Piece_FINAL_10-08-03
FIRE HAZARD PLANNING:
Fire_Hazard_Planning-Final_Report
GENERAL PLAN GUIDELINES:
DRAFT_General_Plan_Guidelines_for_public_comment_2015(2)
GLOBAL CLIMATE CHANGE:
CAPCOA_White_Paper_Climate_Change
Global_Warming_mitigation_measures
HISTORIC PRESERVATION:
LAND USE:
Calaveras Cannabis Cultivation EIS_2017
General Plan Update Community Planning Element Valley Springs Community Plan 1-26-17
PUBLIC SERVICES:
adoptedcalaveras_fire_msr_final_no_mhfpd_downsized
final_calaveras_water_wastewater_msr_2012
jbfinal_csd__csa_report_adopted_copy
TRAFFIC:
493_FinalRTP_2012CalaverasRTP_wExecAppend(2)
  494_2012-Calaveras-County-RTP_PublicReviewDraft_Released-July-27-2012
BIKE TRAILS:
Amador Bike Survey Implications
Calaveras County Baseline Report Omissions
Response to Draft General Plan Baseline
WATER PLANNING:
LGC_Water_Planning_Ch_3_Sect_3_4
December 2016
8-17-16 letter to pc in pdf final8-31-16
Letter to Cal. PC re Copperopolis
October 2016
CPC Comments for BOS re. General Plan Draft & Map, BOS meeting 10/4/16:
Joyce Techel speaking on behalf of MyValleySprings.com & the Calaveras Planning Coalition:
cpc-comments-to-bos-re-project-description-10-4-16
September 2016
Calaveras Planning Coalition Position Paper – September 2016:  (AN EIR IS NEEDED ON COMMERCIAL CANNABIS CULTIVATION AND ASSOCIATED ACTIVITIES)
an-eir-is-needed-on-commercial-cannabis-cpc-position
August 2015
General Plan Update:
Asphalt Plant Update:
June 2015
Good Planning can enhance Property Rights, Property Values & Property Interests – Presented by Tom Infusino on June 8, 2015 at CPC's Let's Talk About: How good planning protects property rights and how planning for economic development increases local self-sufficiency and quality of life.
Good Planning can enhance Property Rights posting
June 2014
Muriel Zeller – Calaveras Enterprise Columnist
Take a Lode off:
June 2014
Items for discussion at Planning Commission on 6-12-14,
including the Saddle Creek Development Agreement Extension:
From Colleen June 26 Planning Commission: 
(Ward has video posted on CAP: http://calaverascap.com/june-26-2014-calaveras-county-planning-commission/)
1) At first Public Comment, I followed up on Tom's presentation at 6/12 meeting.  I thanked the commissioners for being receptive to his suggestions for mitigation and development project monitoring and establishing protocols for review of old environmental docs for extensions, and for requesting future study sessions.
2) At second Public Comment, I thanked them for bringing up their desire to address the problem of residential outdoor lighting, which is not addressed in code and has come before them over and over for 5+ years, has been dealt with inconsistently, and I suggested they include language in the GPU to address and bring back in SS.
3) Peter Maurer's then made a report/ comments which are worth listening to.  He seemed receptive to this idea of language in the GPU (and other ideas), and to having a study session late July or August as an annual planning project update along with addressing suggestions from Mr. Infusino.  He also talked about trying to get history/background of GPU, meeting with interest groups, "working in a vacuum", "no continuity of staff", "bookshelves of documents" but "what's pertinent today?"  
It's worth listening to for a few minutes to get a sense of where the Director is coming from.
4) Autozone filed an appeal to the BOS yesterday.  They are also requesting modification of the road standards.  PC Karen Sisk said "I can see problems developing there" (which I asked about afterwards and she doesn't like the idea of a lot of access driveways and congestion in that area).
April 2014
Written comments to DWR on the MAC IRWMP Update (April 18, 2014)
March 2014
 Articles of Interest:
CAP and CPC member Bob Dean talks about Water and Land Use in an article for the Calaveras Enterprise:
CPC member and Foothill Conservancy Executive Director Cecily Smith writes about the historic Calaveras Supervisors vote for Mokelumne River Wild & Scenic Designation:
February 2014
Presentation to public by Tom Infusion at CAP/CPC public meeting Feb. 3, 2014:
Articles of  interest to CAP/CPC:
January 2014
Articles of interest to CAP/CPC:
CAP Governing Committee Co-chair and CPC member Joyce Techel letter to the Calaveras Enterprise:
Planning Updates for 2013
October 2013
Planning Updates
Please amend the IRWMP Draft Plan Review Procedures (DPRPs)
2. Testimony of Tom Infusino, On behalf of the Calaveras Planning Coalition,
          At the EBMUD Hearing in San Andreas, CA, on October 21, 2013,
          Regarding the Camanche Water Permit Deadline Extension Draft EIR
September 2013
Planning Updates
General Plan Update
August 2013
Planning Updates
General Plan Update
CPC's response to the General Plan Update notice to submit policy suggestions:
June 2013
Planning Updates
General Plan Update
May 2013
Planning Updates
General Plan Update
April 2013
Planning Updates
General Plan Update
 Letter to Calaveras Planning regarding:
March 2013
Planning Updates
General Plan Update
Download Here:  Draft Setting
February 2013
Planning Updates
General Plan Update
Re: Comments on Sawmill Project:
Testimony of Thomas P. Infusino, Calaveras Planning Coalition: To Calaveras County Board of Supervisors, 2-26-13:Download Here:  to BOS on Sawmill 2-26-13 2 final
January 2013
Planning Updates
RE: The Calaveras Planning Coalition recommends continuing to improve the MAC IRWMP over the next two years:
December 2012
October 2012
Draft MAC IRWMP. (Mokelumne-Amador-Calaveras (MAC) Regional Water Management Plan Update)
September 2012
Planning Updates
RE: Agreement with Staff Report Recommendations for the Sawmill Project on your Agenda for 9-13-12.  Download here: Sawmill to P C 9-12-12 fin
April 2011 through April 2012
Comment Letters
Testimony at County Hearings & Meetings
Op-Ed Pieces
Trinitas News