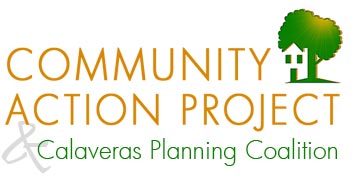 Community Plan Documents
Citizen-based groups represented in the Coalition, and some that are not, have prepared Community Plans, vision statements, planning data, and other input to the Planning Department that is specific to their own communities. As they become available, they will be posted here.
Save the community plans – This article is by Tom Infusino, facilitator for the Calaveras Planning Coalition – March 17, 2015.
Mokelumne Hill
Moke Hill Plan revised May 1, 2012

Draft Community Plan submitted to County by Mokelumne Hill Community Plan Task Force
Mountain Ranch
Draft Community Plan submitted to County by unanimous vote of the Community
Paloma
Community Plan Vision, Principles, Map
Railroad Flat / Glencoe
Vision, principles, and policies submitted to County by citizens (requires Adobe Reader 9 or later)
San Andreas
Draft Community Plan submitted to County by Citizens for San Andreas
Results of San Andreas community survey
Sheep Ranch
Vision
Valley Springs
Draft_Valley_Springs_Community_Plan – Final (1)
Valley Springs Community Plan
Wallace
Vision
West Point
Introduction, Vision, Principles
Community Map
Commercial Center Map
Wilseyville
Vision & Policies