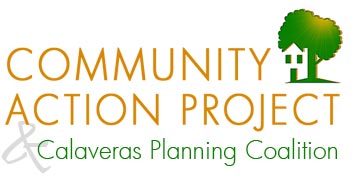 Board of Supervisors Meeting Info
Board Minutes, Summaries, and Agendas are available here.
Begining August 2011, the Calaveras County Board of Supervisors meets the 2nd and 4th Tuesday at 9:00 am in the Supervisors Chambers at Government Center, 891 Mountain Ranch Road, San Andreas. The Board will conduct evening meetings at 6pm on, July 30th, 2013; October 29th, 2013; April 29th, 2014.
General Plan Update
Video of Public Hearing on General Plan Alternatives
County Report on General Plan Alternatives Workshops
Planning Commision Staff Report on
General Plan
Alternatives Report
Resources:
Draft Vision Statement and Guidelines (from County)
Pros & Cons of Alternatives A, B, & C (from CAP/CPC)
Workshop Meetings
Murphys – March 8: SEE VIDEO
San Andreas – March 12: SEE VIDEO
Railroad Flat – March 13: SEE VIDEO
Mokelumne Hill – March 15
Copperopolis – March 17
Valley Springs – March 18: SEE VIDEO
Arnold – March 22
——-
On February 2, 2010, Calaveras County Planning Director George White and the the County's planning consultants, Mintier Harnish, presented an overview of the General Plan
Update.Click HERE for video of the entire meeting.
Click HERE to for the Presentation Notes on the County website.