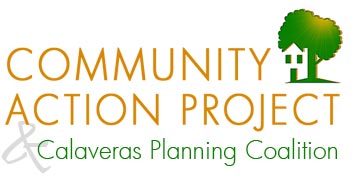 Current Projects
Calaveras County General Plan
The CPC continues to promote a comprehensive General Plan Update with full public participation.  The CPC is currently awaiting the release of the Draft General Plan text.  The CPC will provide comments on the plan and suggest feasible ways for the county to efficiently meet the challenges presented by our future.
Water Planning
The CPC will continue to closely review planning efforts by the Calaveras County Water District.  The CPC encourages water conservation and reclamation to ensure that water is available for a broad spectrum of beneficial uses including fish, wildlife and recreation; in addition to domestic, commercial, industrial, institutional, and agricultural uses.  The CPC supports maintenance of healthy watersheds.
Community Group Planning Assistance
The CPC helps community groups in need of assistance with planning issues in Calaveras County.
Amador/Calaveras Planning Collaboration
The CPC is now collaborating with planning activists in Amador County to advocate for common policies and programs that would benefit both counties.  The CPC will be providing a list of such policies to Amador County during its upcoming general plan hearings.
Calaveras High School Earth Club – General Plan Update Working Group
Economic Development Work Group
Mokelumne River Wild & Scenic Work Group
Parks & Recreation – Skate Board Park Work Group
Teen Crises Center