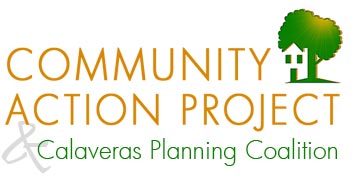 CAP Governing Committee, Principal Staff, and CPC Membership
CAP Governing Committee for 2016
John Trinkl, Co-Chair—John Trinkl came to CAP from a lifetime of activism in various social causes and has been focusing much of his energy recently on preserving the quality of life of Calaveras County. He and his family own a cabin in Big Trees Village north of Arnold. John is a current Board member and former President of Ebbetts Pass Forest Watch. John has been a reporter, writer, editor, marketing specialist, web developer, and has worked in the travel industry, the book publishing business, and high tech ventures.
Joyce Techel, Co-Chair—A business owner and long-time resident of Valley Springs, Joyce has been involved with various volunteer activities in the county for two decades. She is a founding member of MyValleySprings.com, one of the major groups in the Calaveras Planning Coalition.
Muriel Zeller  – Muriel is a poet, writer and land use activist.  She is a former member of the MyValleySprings.com board of directors and has been a member of the Calaveras Planning Coalition since its creation in 2006.
Zerrall McDaniel – Zerrall owned and operated her own business in Calaveras County for 30 years. She is co-founder of Citizens for San Andreas, the group that updated the San Andreas Community Plan and developed the San Andreas Mobility Plan. She has been a Trustee on the Calaveras Unified School District Board for 15 years. She is a member of the Economic Development Company and a Community Health Worker for the Public Health Department.
Calaveras Planning Coalition Membership
CPC Associate Membership:
Mickey Williamson
Marti Crane
Judith Marvin
Cecily Smith
George Fry
Tim Laddish
Jackie Neill
Muriel Zeller
Holly Mines
CPC Group Membership:
Calaveras Child Care Council
Central Sierra Environmental Resource Center
Citizens for San Andreas
Community Action Project
Ebbetts Pass Forest Watch
Foothill Conservancy
Keep It Rural, Calaveras
MyValleySprings.com
Paloma Community Group
CAP Principal Staff
Tom Infusino, Planning Consultant, CAP/Calaveras Planning Coalition Facilitator
Since the very beginning of the Calaveras County General Plan Update in 2006, Tom has helped CAP and the CPC with meeting facilitation and organization, strategy and training, project comments and CEQA comments, and by providing very professional testimony before the Planning Commission and the Board of Supervisors.
In 2006, Tom led the Calaveras Planning Coalition in a successful effort to convince the Calaveras Board of Supervisors to prepare a comprehensive update of the County's general plan. In 2007, he organized community members to participate in two rounds of general plan workshops, to support self-determination through community plan updates, and to advocate for smart growth principles. This resulted in those principles finding their way into the heart of the general plan vision statement. Also in 2007, he trained the CPC activists to assist a new community group, Keep It Rural Calaveras, as they submitted a binder full of comments on the Trinitas Draft EIR. Ultimately they convinced the Board of Supervisors not to approve this harmful project. In 2008, Tom served with other CPC representatives on the committee that drafted a Water Element, and facilitated collaboration with the group working on the Agriculture Element.
In 2009, Tom and the CPC collaborated with other groups to turn out 185 people and 30 speakers to oppose the expansion of Pardee Dam at an East Bay MUD hearing in San Andreas. In 2010, Tom guided smart growth activists through the general plan alternatives workshops, culminating in over 70 percent of the participants, and a unanimous Board of Supervisors, selecting a community-centered growth alternative, that eliminated from the map 200 square miles of 5-acre-parcel rural sprawl. In 2011, Tom trained and organized the successful opposition to two zoning ordinance amendments aimed at eliminating environmental review and conditions of approval for commercial projects. In his spare time working with other clients, Tom anchored the legal team that successfully challenged East Bay MUD's plan to raise Pardee Dam and to inundate the whitewater recreation area on the Mokelumne River.
Since 1991, Tom has been using his environmental planning and legal expertise to provide low-cost help to non-profit neighborhood groups and environmental groups as they navigate the complicated administrative processes involved in local land use planning, private development review, and federal land use approvals. Tom has represented gold country clients along the Highway 49 corridor from as far south as Mariposa to as far north as Grass Valley on issues including general plan amendments, subdivision approvals, traffic congestion, grazing permits, water rights, and OHV reforms.
Contact Information:
Address: P.O. Box 792, Pine Grove, CA 95665
Telephone: (209) 295-8866
Email: tomi@volcano.net
Kerry Williams
CAP Outreach Worker
Kerry joined CAP in July 2012. He is a dedicated and compassionate professional with a strong background in various aspects of community planning and organizing.
Kerry brings to CAP a deep concern for the future and high regard for progressive planning as central for community prosperity in Calaveras. He favors "advocacy planning" as a strategy for community organizing as it emphasizes citizen-centered planning and promotes social justice.
Kerry's work in Calaveras County began in 2006 as the program coordinator for the Calaveras Child Care Council. As the program coordinator he was responsible for assuring that the Calaveras Child Care Council successfully met its responsibilities and contract requirements.
Tasks included gathering data for needs assessments, facilitating workgroups, meeting with potential collaborative partners, writing press releases and opinion editorials, and drafting policies and implementation measures for child care to be included in the Calaveras County General Plan
In 2009, Kerry joined a team of educators, and community organizers in San Diego, to develop a non-profit that could build collaboratives, to enable people to work together—locally and globally—in ways that create sustainable livelihoods, common wealth and well being while eradicating root causes of poverty, environmental degradation and unhealthy living conditions
In 2010 Kerry co-authored with Sean Kriletich, and Keith Pezzoli, a paper on progressive ruralism and bioregional interdependence in California's Sierra Nevada foothills. The paper, published by Progressive Planning Magazine, (1) exposes the paradox of poverty within resource rich rural environments; (2) proposes an approach to rural sustainability that takes into account urban-hinterland relationships; and (3) politicizes progressive ruralism through coalition building, networking, advocacy planning, research, education, cultural events and multimedia communication.
Contact Information:
Address: 17255 Old River Road, Fiddletown, CA 95629
Telephone: 209-296-1964
Email: kerrwill61@gmail.com
For more information on the Community Action Project in Calaveas County, please contact us.